ali lanzetta teacher ali lanzetta teaching ali lanzetta
my areas of expertise
Positive Psychology
Positive Psychology is the scientific study of mindset, happiness, resilience, and human flourishing, as well as the application of specific strategies to optimize conditions for well-being and growth. Yes, it's real science! It's the applied science of happiness.
creative reading & writing
Creative Reading and Writing is a paired term I use to characterize an intentional way of reading and writing where each continuously enriches and inspires the other, leading the practitioner to more dynamic and meaningful experiences of both.
Positive Psychology dovetails beautifully with Creative Reading and Writing!
---
Check out this clip that explains how positive emotions are essential for activating and sustaining creativity.
---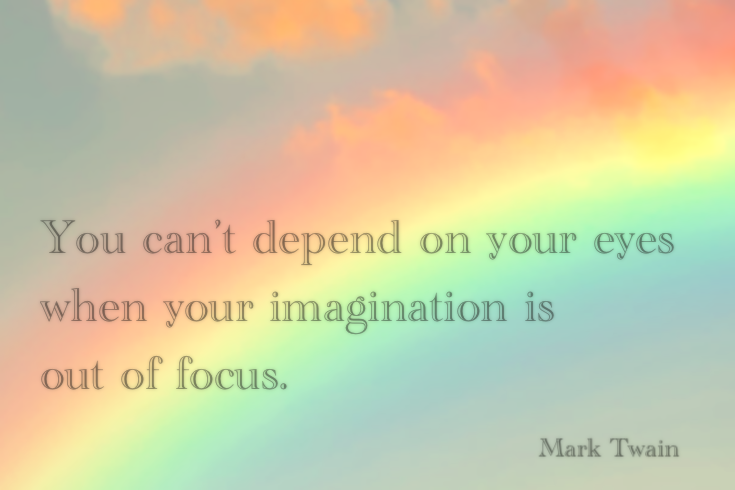 ali lanzetta teaching ali lanzetta teacher ali lanzetta writer
About My Teaching Work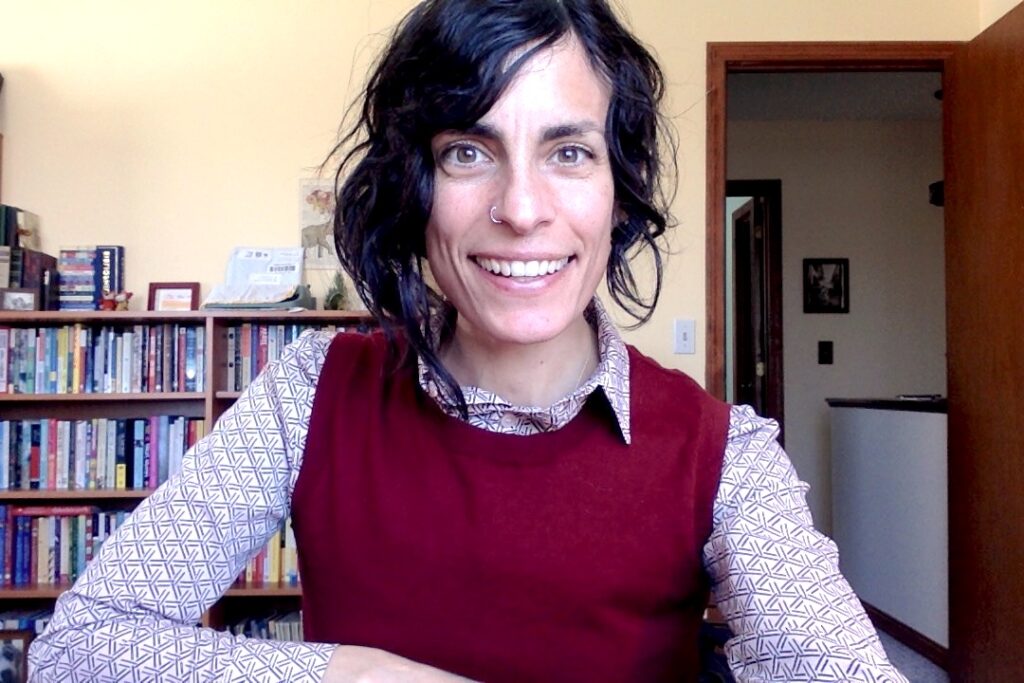 I've been teaching Creative Reading and Writing for about 13 years, and I feel it's one of my true callings.
My academic and artistic areas of expertise are poetry and prose poetry, micro and flash narrative prose, experimental and hybrid forms, literary fiction, and–my special niche–the intersection of Positive Psychology and Creativity.
I've taught and am well-qualified to teach a variety of Creative Writing, Creativity, and Positive Psychology classes, both basic and advanced. I have multiple advanced degrees and certifications, over 30 small publications, a forthcoming collection of mixed flash narrative prose, a rich history of involvement in assorted literary and arts communities, and many years of experience teaching at the college level and working with extremely diverse populations of students, in terms of age, class, ethnicity, skill level, background, learning style, lived experience, and creative aesthetic. I've been the recipient of awards for both writing and teaching; my passions for reading, writing, creativity, learning, and the arts are truly the driving forces in my life, and I try to let that shine through everything I do.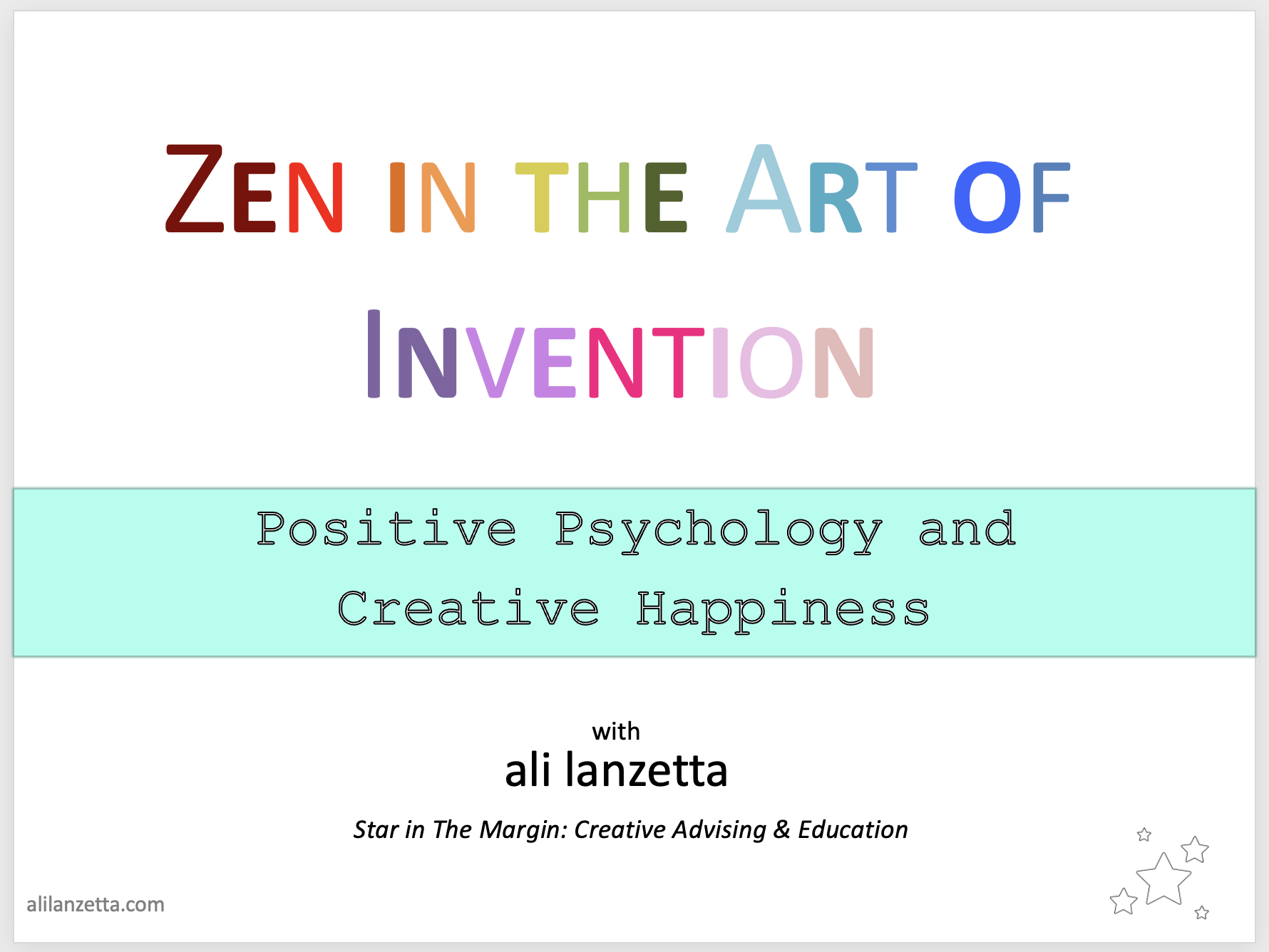 My signature course, Zen in the Art of Invention, addresses something we don't talk about enough in arts education: the importance of staying positively engaged with our creative work. Time and time again, both science and lived experience have shown us that Positive emotions facilitate greater creativity; broaden and diversify perspective; encourage more openness; and simultaneously boost and build mental and emotional resilience. The implications of this not only for our mental and emotional wellness, but for the health of our creative processes themselves, are profound. I created this unique course to explore the happiness-creativity connection, and to offer students specific strategies to engage it to enrich their creative work as well as their overall holistic health and creative well-being.
To explore more about how the principles of Positive Pscyhology can be applied to support you creatively and otherwise, please check out my blog, Star in the Margin, where I've written extensively on this topic.
ali lanzetta teaching ali lanzetta teacher ali lanzetta classes
---
education & background
B.A. in Studio Art
The Evergreen State College, Olympia, WA.

M.A. in English: Creative Writing
SF State University, San Francisco, CA.

M.F.A. in Creative Writing: Poetry & Teaching
SF State University, San Francisco, CA

200-hr. YTT & Eagle-Condor Medicine Training
Earth & Sky Yoga, Wolfeboro, NH

Positive Psychology Coaching Certification
The Wholebeing Institute, Hardwick, MA.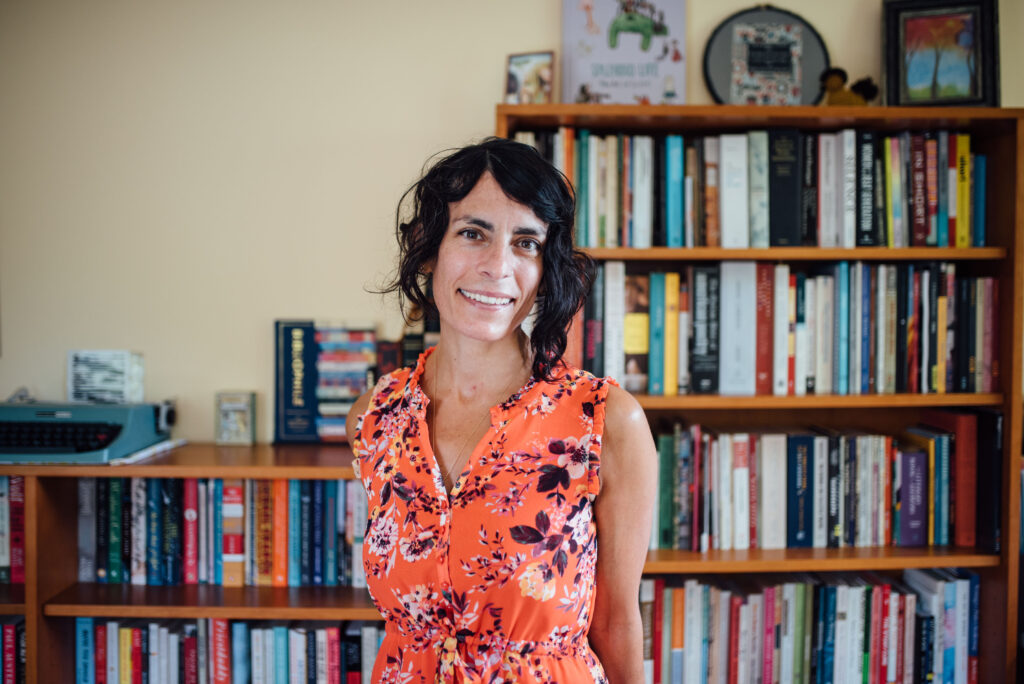 ---
teaching experience
I've taught Creative Reading and Writing in academic settings for over thirteen years, at a variety of schools including San Francisco State University, Southern NH University, and Champlain College. I was honored to recieve the Vermont State College system's award for Teaching Excellence in 2016, for my work with students at the Community College of Vermont, during my first year teaching for the state. I consider teaching an art, and over the years have developed my own creative style that's been used with hundreds of students not only to explore specific aspects of Creative Reading and Writing, but also to inspire greater curiosity, imagination, openness, and artistic courage in my students.
what i'm about
My teaching work and my creative work are informed by my experience as a multidisciplinary artist and student of the arts, Positive Pscyhology, Yoga, and Zen Buddhism, as well as by a deep sense of wonder and affection for the world and all its color and characters, and an ongoing curiosity about how we choose to live in it. I teach my classes with light-heartedness, depth of feeling, experimentation, cooperation, craft, and creative reach in mind. My hope for myself and for my students, always, is that we come away from class having discovered some new things about ourselves and about our creative process, made some exciting new connections and progress in our work, and enjoyed the adventure of learning together.
positive psychology
Positive Psychology offers a profound way of understanding and reframing our creative work and relationships to it. Its science-backed strategies are excellent for getting creatively "unstuck" and breathing new light and energy into our creative projects and practices. The more we integrate invention and imagination into our daily lives, the richer and more holistic our creative work and lives become – this is the foundational principle of Creative Reading and Writing, and underpins my cheerful, experimental approach to arts education and Creative Writing more broadly. I'm truly a wholehearted individual (I do everything with my whole heart!) and all of my work, both artistic and academic, reflects that.
---
current & upcoming offerings
I'm currently scheduled to teach a summer section of Composition II (otherwise known, in my classroom, as Adventures in the Art of Narrative Nonfiction) at The Community College of Vermont in Winooski. This is a fun twelve-week course in the art of the essay, with both a workshop and a research component, where we'll explore the creative craft and process aspects of telling our stories and writing interesting and effective nonfiction.
---
I'd love to hear from you with any questions about me, my work, my classes, or to discuss working together! Please don't be shy to get in touch.